info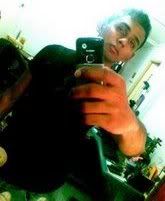 a twenty year-old soldier, deeping an escape fantasy into the wilderness of lifestyle, fashion, music, politics and the suffocation of everyday living. allow me to take my emotions and paint the world white.



facebook - friendster - myspace




LINKS
aaron.
erns.
jun.
rach.
zen.
zi chee
broth.
going om.


Andrea Crews
BryanBoy
Borderline
C.O.A.C.D
F.A.D
La Femme
Luis Avia Roma
Pink! is the New Blog
The Face Hunter
The Sartorialist
Ultra8201
Wardrobe Remix
WISHLIST
MACbook
new wallet
new phone
oni tigs



TRACK

Rihanna - Disturbia



TRAVEL
Bali
Cambodia
Koh Phi Phi


EATARY
BROTH just sliding off those sleezy bar by the junction. located above Duxton Hill, comes a very relax and romantic get away-like semi-fine dining heaven. Where modern Australian is a choice and service is at it's excellence.

Lunch : Mondays to Fridays Dinner: Mondays to Saturdays
20 March 2006 @ 8:48 pm
dusk and her embrace
Things are boiling up between things at store. I'm really pissed to say what can happen and how can it even come like this. DOn't understand why I can't stay but those who don't work for months, can. It's so unfair to travel this way after things were assumed cleared. There is no destination or cultural difference in this and I believe it's not about being fair or the brand's culture I'm being reacted with. It's absolutly natural if someone finds another job or gets a better offer. But I never highlighted on leaving no wil ever will. I want my store and thats about the last I'll say. I know ML is closing down, but the memories and the strength is still like a never dying energy. I believe it in maintaining this through-out no matter who goes out or drops in. There is no right that is given to remove any partners just because they've found a full-time job. Because, everyone has that route and majority is in that route too. This I need to amend. I won't go with the flow like Rashidah. I just hope racist culture isn't practice here.

The new job is quite challenging. Since it's a first experience in dining. My station just got perfect today and I guess tomorrow is the beginning of my actual shift. Pay is good but not all of the people are. Gavin; my operational manager, is the only cool guy over there and save to say I'm under him. Everyone of us are quite understanding towards one another. Bitch alot of crazy stuff. The door bitch is HOT, sleezy and funny. But the team, save to it's most core value, understands one another and try to make a working experience not to forget.

Miss baby so much. Last week's time spent together isn't there anymore. I just hope this week progresses better. I can touch this to say, no matter what challenges. I still love you baby. I know you'll be reading this. And I miss you that much.