info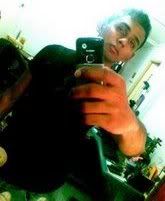 a twenty year-old soldier, deeping an escape fantasy into the wilderness of lifestyle, fashion, music, politics and the suffocation of everyday living. allow me to take my emotions and paint the world white.



facebook - friendster - myspace




LINKS
aaron.
erns.
jun.
rach.
zen.
zi chee
broth.
going om.


Andrea Crews
BryanBoy
Borderline
C.O.A.C.D
F.A.D
La Femme
Luis Avia Roma
Pink! is the New Blog
The Face Hunter
The Sartorialist
Ultra8201
Wardrobe Remix
WISHLIST
MACbook
new wallet
new phone
oni tigs



TRACK

Rihanna - Disturbia



TRAVEL
Bali
Cambodia
Koh Phi Phi


EATARY
BROTH just sliding off those sleezy bar by the junction. located above Duxton Hill, comes a very relax and romantic get away-like semi-fine dining heaven. Where modern Australian is a choice and service is at it's excellence.

Lunch : Mondays to Fridays Dinner: Mondays to Saturdays
16 July 2006 @ 7:06 am
early in the morning, 7 O' clock.
Now is the time, to sit down and shake your leg. Maybr cross them, whichever that helps. Its my day off. Sitting overnight on my computer downloading porn (there are too much of them, that I decided I got to stop somewhere in the middle). Aswell as some good bands' artwork. I've notice the flavour for Mediviael/Folk music embracing. Catchy and listenable definatly. Of course was uploading all the pictures I took(which has been in my phone for aeons, finally!) and clearing up the tones of songs in my phone(found a reason for blaming my phone fucked).

Bartending is definatly fun. But geography and history methodes slides in at parts and parcel of the subject. When you got to remember and educate or accrute the knowledge. Now thats one hell of a bummer. I think it's giving me depression, sigh. Everyone is leaving in Uber. It's getting more and more empty. Echos fills the restaurent each time you call out to one another. I really miss them all so much. Aida's crazy madness laugh and over the hedge volume, Agnus's pretty bimboish pose and her ever bitching mouth, Syed & Yati's never ending arguments (even though we still catch up once in awhile) and now; Arun is also over here. I just hope things stay where they are now.

I think for some reasons,m I'm facing hair loss. I'm gonna kill myself seriously. Oh! Plus Lunarin's last gig of the year screens today at Baybeats 9pm. Get your fucking asses down.