info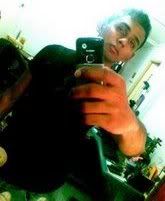 a twenty year-old soldier, deeping an escape fantasy into the wilderness of lifestyle, fashion, music, politics and the suffocation of everyday living. allow me to take my emotions and paint the world white.



facebook - friendster - myspace




LINKS
aaron.
erns.
jun.
rach.
zen.
zi chee
broth.
going om.


Andrea Crews
BryanBoy
Borderline
C.O.A.C.D
F.A.D
La Femme
Luis Avia Roma
Pink! is the New Blog
The Face Hunter
The Sartorialist
Ultra8201
Wardrobe Remix
WISHLIST
MACbook
new wallet
new phone
oni tigs



TRACK

Rihanna - Disturbia



TRAVEL
Bali
Cambodia
Koh Phi Phi


EATARY
BROTH just sliding off those sleezy bar by the junction. located above Duxton Hill, comes a very relax and romantic get away-like semi-fine dining heaven. Where modern Australian is a choice and service is at it's excellence.

Lunch : Mondays to Fridays Dinner: Mondays to Saturdays
22 August 2006 @ 5:48 am
what if?
Pointed fingers. Snared wicked words. Laughed to insanity. I've done it all. What I've done to people undergoing confused love life. Never imagined coming back? Coming back to you a time when you least expected? I've been thinking to talk this out. I've been wanting to explode. But what does it got to sell? My life for words?

I damn well know I was different. Way back in those day. I sure know I have something extra; or worst to look at something less? But I can't walk away from it. And Now I'm stuck more than ever. I should have known this in the beginning. But how stubborn can this smokescreen be? Now things are getting deeper and deeper and I'm stuck. Either with you my dear or with you my baby? Every step I take is one step back to what I want in return. Every side I turn is a way to an empty shell. Please help me walk through this. My heart just hang on a noose. Thank you to be different. Thank you to my steps in loosing control. Now what if...?

What if you have to but you know you can't?
What if you wanted to say something but you can't say anything?
What if you had one more chance to breathe?
What if you were not to be told?
What if you were suppresed?
What if you don't know you had loved?
What do you do if you know something is bad for you but you still can't let go?
What if you have to resist to speak?
What if you can't express?
What shall happen if you can't think?
What if you have no time left to say?
What will you do if you have two hands to hold?
What will you get if your back was watched from day 1?
What if there is none of what you believed?
What if death is life?
What if life is the prelude to death?
What will you do to shed one last tear?
What do you think you'll say on your very last word?
What will you take to look at the one you loved?
What have you done to produce a confusion?
What if you have to leave love for love?
What if your heart and mind don't match?
What will you do to hold everything you know you don't want to?
What will forever be if there is never ever?