info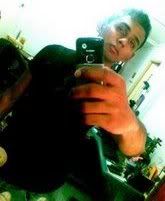 a twenty year-old soldier, deeping an escape fantasy into the wilderness of lifestyle, fashion, music, politics and the suffocation of everyday living. allow me to take my emotions and paint the world white.



facebook - friendster - myspace




LINKS
aaron.
erns.
jun.
rach.
zen.
zi chee
broth.
going om.


Andrea Crews
BryanBoy
Borderline
C.O.A.C.D
F.A.D
La Femme
Luis Avia Roma
Pink! is the New Blog
The Face Hunter
The Sartorialist
Ultra8201
Wardrobe Remix
WISHLIST
MACbook
new wallet
new phone
oni tigs



TRACK

Rihanna - Disturbia



TRAVEL
Bali
Cambodia
Koh Phi Phi


EATARY
BROTH just sliding off those sleezy bar by the junction. located above Duxton Hill, comes a very relax and romantic get away-like semi-fine dining heaven. Where modern Australian is a choice and service is at it's excellence.

Lunch : Mondays to Fridays Dinner: Mondays to Saturdays
30 March 2007 @ 11:38 pm
my halo: my noose.

now i'm lost again. broken and blurry. back to where i left 2 years back. i've surrendered myself a trap. fell back intothe bottomless pit. once again i drove another nail down. my silent force felt a wretched sence of wickedness underneath.a mockery of self-hatred and macabre. this i guess is what i deserve. a halo will rise upon &a noose will ring around. of greed & immatuarity i linger; dwelled a thousand hours to this date i never realised myproportion of his inner-grief i've placed contributions to. low-lying and ignorance played a toll; nevertheless selfishnesswas the main game. but i'm more than just a little curious; how i'm planning to mold & to take amend to this death. what thus more will the crossroads bring about? or pouring upon a test before even beginning demystifying? i can't say.i'm speechless and on final grounds i'm beginning to regreat. i shed a hundred broken tear but it never prevails.

everytime now i look into the mirror. or let me surround myself again. i have no one to look back at how i use to. this issomething different. something a 2year routine has shuckled a crack. i know i need you baby. but i make believe it's reallyreally a dead end. this weakness are beginning to grow. grow a fantasy each time i walk across or stumble upon a vision.a television of our routine sundays. our time at the nearby coffeeshop. our moment at the crackers store.i will begin to miss upon the walk we take. the ice-cream we'll buy. the drink we'll share. or the watsons stores we'll just merlinger.the slightest things are the most intense memory.now taking a foul factor away. i won't be able to dream a day you by my side my way back to camp. someone there to summon my load, or just a mere aquientance. i felt everything i came acrossjust an hour ago when i went to get candies. it wasn't a sweet memory either. i came to realise that i've hurt myself byhurting you.

how appreciative i am now to the dollar heart you gave me for BMT. now it's of the most special thing to me. even thoughhow ungreatful to how i took it. i should have known this would came by earlier. taking for granted was a visiory. and now i suffer taking myself prisoner of my own doings. there ain't nothing i can do in return but to weep upon it over & over again.

the mark lasted a defination: 28.12.04 - 24.03.07.