info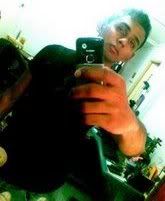 a twenty year-old soldier, deeping an escape fantasy into the wilderness of lifestyle, fashion, music, politics and the suffocation of everyday living. allow me to take my emotions and paint the world white.



facebook - friendster - myspace




LINKS
aaron.
erns.
jun.
rach.
zen.
zi chee
broth.
going om.


Andrea Crews
BryanBoy
Borderline
C.O.A.C.D
F.A.D
La Femme
Luis Avia Roma
Pink! is the New Blog
The Face Hunter
The Sartorialist
Ultra8201
Wardrobe Remix
WISHLIST
MACbook
new wallet
new phone
oni tigs



TRACK

Rihanna - Disturbia



TRAVEL
Bali
Cambodia
Koh Phi Phi


EATARY
BROTH just sliding off those sleezy bar by the junction. located above Duxton Hill, comes a very relax and romantic get away-like semi-fine dining heaven. Where modern Australian is a choice and service is at it's excellence.

Lunch : Mondays to Fridays Dinner: Mondays to Saturdays
27 May 2007 @ 12:09 pm
bid a sanctuary farewell
today might actually be the last time blogging. well; blogging in this asylum of course. i'm shifting to somewhere else. it's a little pain; and no i'm not refering to the packing. the mood that you're leaving 20years of time spent here. the truth that i can't take 10minutes down to granny's and hang around for food. & a new experience in size shrinking. now i realise how size matters; lol. i'm really gonna miss this house. but it's going to be a new beginning. a new place and a fresh start. it's going to be exciting & i'm deeply looking forward to it.

one month deployment dropping by the entire june holidays. it's gonna get nerve wrecking especially when we take our toll in northern sector. & diminishing the fact how i'll not touch the weekends the entire time. so with that reason; i went clubbing last night. yay! with zen & junaidy. was boring at first; especially went it was so early & the retard bartender had a bitch problem. ugly scrap whore-face. still dare to wear a 'diva' vest. i still think he thinks his beautiful. fucked-face. ugh! vincent & herve came after zen left; what a pity. we spread alot of love yesterday; i wish i could have spread more. i think one is never enough. harper & dave finally broke the barrier. we manage to make it down to taboo as well. i went topless. i was drunk. then lets not dig the rest of the details. i got a hook aswell. even though i though there was more than just one hook. that includes close call at tantric. formal wear is such a turn-on.

& for the rest; doing packing up now. a new asylum by thursday.