info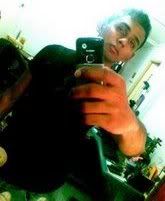 a twenty year-old soldier, deeping an escape fantasy into the wilderness of lifestyle, fashion, music, politics and the suffocation of everyday living. allow me to take my emotions and paint the world white.



facebook - friendster - myspace




LINKS
aaron.
erns.
jun.
rach.
zen.
zi chee
broth.
going om.


Andrea Crews
BryanBoy
Borderline
C.O.A.C.D
F.A.D
La Femme
Luis Avia Roma
Pink! is the New Blog
The Face Hunter
The Sartorialist
Ultra8201
Wardrobe Remix
WISHLIST
MACbook
new wallet
new phone
oni tigs



TRACK

Rihanna - Disturbia



TRAVEL
Bali
Cambodia
Koh Phi Phi


EATARY
BROTH just sliding off those sleezy bar by the junction. located above Duxton Hill, comes a very relax and romantic get away-like semi-fine dining heaven. Where modern Australian is a choice and service is at it's excellence.

Lunch : Mondays to Fridays Dinner: Mondays to Saturdays
20 May 2007 @ 3:52 pm
one night only
for at first i thought it's going to be a little interesting. when i was at vincent's white party; everything was the opposite. everything was white; inculding the people. plus point; i was the youngest. not socialble is the first thing. & that fucker emil was there too; ugh! bitch fit. but that passes quickly with hafiz; farouk; oliver; christian; wina; shawn & etc. started pouring in. christian & oliver as the biggest joke. they were clowning around since the start. doing ballet, swimming in an empty pool, dancing like retards & lame jokes about acting all masculine. love to thank vincent & herve for the beautiful party.

& went to tantric/taboo after that. YAY! and then all the slut in me just ejaculated out. ok i was joking. but the music was hip; new environment too. vincent & hearve with their hot straight frenchie came by too. how exciting? we chatted up and he ended up saying he really likes me and he thinks i'm cute & nice. and i'm also the size of his pinky finger. SO MUCH SO FOR BEING STRAIGHT. and if you wanan know whose the cross between shakira & beyonce in beautiful liar. look no further; it's me. LOL! well atleast thats what everyone claims when i was dancing to that track.

at taboo was definatly exciting but more of sweating it out. if possible i'd dance with every whitie. shawn made me touch anyone topless. oh! and i sneakingly made out with christian by the entrance without hafiz knowing. oops! but well he shoved me first.