info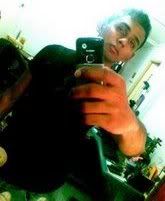 a twenty year-old soldier, deeping an escape fantasy into the wilderness of lifestyle, fashion, music, politics and the suffocation of everyday living. allow me to take my emotions and paint the world white.



facebook - friendster - myspace




LINKS
aaron.
erns.
jun.
rach.
zen.
zi chee
broth.
going om.


Andrea Crews
BryanBoy
Borderline
C.O.A.C.D
F.A.D
La Femme
Luis Avia Roma
Pink! is the New Blog
The Face Hunter
The Sartorialist
Ultra8201
Wardrobe Remix
WISHLIST
MACbook
new wallet
new phone
oni tigs



TRACK

Rihanna - Disturbia



TRAVEL
Bali
Cambodia
Koh Phi Phi


EATARY
BROTH just sliding off those sleezy bar by the junction. located above Duxton Hill, comes a very relax and romantic get away-like semi-fine dining heaven. Where modern Australian is a choice and service is at it's excellence.

Lunch : Mondays to Fridays Dinner: Mondays to Saturdays
14 July 2007 @ 3:36 pm
Eat Me; Drink Me review.
Towering CDS to infinity. Grocering down the HMV shelves yesterday evening. I managed to catch up a hand-grip on the latest work of art by world-renowned controversial artist; Marilyn Manson. Striking a pose on his main frame; it felt as impossible to believe how different it smells from way back to "Antichrist Svperstar".

Considering some of the latest speculations and media feed that surfaced about dropping music in total, divorce settlement to burlesque dancer Dita Von Tesse and another switched in line-up. But nothing would stop this review to put believe that this album is actually isn't as bad in whole.

I actually had my chance poking a few mock at his latest piece. You wouldn't be in denial of how mellow this came across to me. I actually thought it never sounded more mainstream rock than this. If "The Golden Age of Grotesque" was a flip of a pancake. Eat me; Drink Me slapped across faces to hope-holding beautiful people.

But I have to say; working with the album around time ticking; I had my opportunity considering my favorites (even though I can't believe I'm falling in love with it). Highlighting "Heart-Shaped Glasses" & "If I Was Your Vampire" were the juggernauts of the album. I squeeze in "Just a Car Crash Away", "Putting Holes in Happiness", "They Say Hell's Not Hot" & self-titled track "Eat Me, Drink Me" made their fare share.

Pro-lovey material surrounded this album defiantly. Obviously how life based on his divorce and new girlfriend Rachel Even Wood. But rock never seems to sound harder & beautiful with "Just a Car Crash Away". The moment the drums start beating to the fading vocal power. Melancholia just encompasses you like never before. I felt remains of my past love just shot me hole after hole. You can never feel as hollow as you can be to love than to this screaming verses that goes 'I knew that our love was just a car crash away' & 'love was a fire; burns down all that it sees, burns down everything'. And to top putting holes in your heart….. It's going to tear your happiness apart.

"Putting Holes in Happiness" sounded as angsty as The Smashing Pumpkins in total, It was striking back now. It was a scenario that enables you to take full battery; stand up to your defense & punish your suppressor. Sing together now come on 'I should have picked the photograph, it lasted longer than you'.

What's hot they yell. I say this next track. "They Say Hells' Not Hot" catchy chorus and melodic versus to the emotional feel of each word spoke a lot about the title itself. And pop came the work of Tim Skold on guitars (even though I still think John 5 does the better bill). The guitar solo just tears your ear apart. Placing it was very important and I felt the solo can never fit anywhere else comparing to its position now. It settled in just finely.

The album-titled track Eat Me; Drink Me had this feel from the rooted atmosphere of ComaWhite meets Obsequey (the death of art). Like a lullaby that is going to put you in deep sleep in great nightmare. As it chants 'this is only a game… this is only a game… this is only a game'.
Kill yourself in small amounts if you're loosing chance to the album. Because the ending is your end. You'd never feel lonely again to another love end.

Eat Me; Drink Me in stores now.