info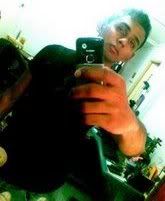 a twenty year-old soldier, deeping an escape fantasy into the wilderness of lifestyle, fashion, music, politics and the suffocation of everyday living. allow me to take my emotions and paint the world white.



facebook - friendster - myspace




LINKS
aaron.
erns.
jun.
rach.
zen.
zi chee
broth.
going om.


Andrea Crews
BryanBoy
Borderline
C.O.A.C.D
F.A.D
La Femme
Luis Avia Roma
Pink! is the New Blog
The Face Hunter
The Sartorialist
Ultra8201
Wardrobe Remix
WISHLIST
MACbook
new wallet
new phone
oni tigs



TRACK

Rihanna - Disturbia



TRAVEL
Bali
Cambodia
Koh Phi Phi


EATARY
BROTH just sliding off those sleezy bar by the junction. located above Duxton Hill, comes a very relax and romantic get away-like semi-fine dining heaven. Where modern Australian is a choice and service is at it's excellence.

Lunch : Mondays to Fridays Dinner: Mondays to Saturdays
21 January 2008 @ 9:52 pm
a fixature & jointly revolting
this is awkard. but i need a day off from camp. atleast plus one. so i got my casuals and decided to catch what i missed friday night - rach. finally the bag is hers, since taiwan trip i tell you. and hanging wasn't a bad idea. bitching is like our philosophy. sometimes you begin to wounder how did we end up to this? differences and laughters. and till today we still share something in common or on opposites. i'm lucky i have a noisy companion like her. if we were on a magazine, it's a definate gossip colummn.

while i was eye flirting and checking out the hotties & just as when reaction starts to tingle the senses of the majority. i caught two missed-away. li hua and peng lek on (somewart sec. sch companions) seperate occasions. for some reasons, they were tension providers. but otherwise they were part of a life cycle that is history, like a dead memory revived. from far that i know. my contributions and persona lasted mere - 2yrs? yes! somewhere there. it's like a childhood nightmare/mishap born again. there are the nagetivity and the pros. what ever it is, being with the cluster of my secondary school days of life has a meaningful role to play. i've learnt multiple and studied various. it comes to judgement and friendship. and a dicision to choose which to stay and what to go. but i never miss out on the most peak of importance though. & i'm not being a filter funnel here. but when nightfall comes and a new day begins, it's time to choose the ones you want to be with and those not worth living upon.

i guess a choice you've made, regreated or not. life just keeps reeling on and on. & theres nothing or no one that can do anything about it.