info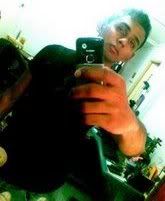 a twenty year-old soldier, deeping an escape fantasy into the wilderness of lifestyle, fashion, music, politics and the suffocation of everyday living. allow me to take my emotions and paint the world white.



facebook - friendster - myspace




LINKS
aaron.
erns.
jun.
rach.
zen.
zi chee
broth.
going om.


Andrea Crews
BryanBoy
Borderline
C.O.A.C.D
F.A.D
La Femme
Luis Avia Roma
Pink! is the New Blog
The Face Hunter
The Sartorialist
Ultra8201
Wardrobe Remix
WISHLIST
MACbook
new wallet
new phone
oni tigs



TRACK

Rihanna - Disturbia



TRAVEL
Bali
Cambodia
Koh Phi Phi


EATARY
BROTH just sliding off those sleezy bar by the junction. located above Duxton Hill, comes a very relax and romantic get away-like semi-fine dining heaven. Where modern Australian is a choice and service is at it's excellence.

Lunch : Mondays to Fridays Dinner: Mondays to Saturdays
21 February 2008 @ 9:50 pm
the beauty of the dark & the light.
i think i just walked out being sick. bad sore throat and feverish motion make me feel so weak. it's my off day today and i made good use of it in couple of directions. regardless of the bad aches, i manage to collect my ultered pants and made warrenty worth-while with nokia. met dave for a little nipsy nipsy and SPY is a good choice of clothing. I heart henry lau's pants. but you pay a price for it.

i caught epic movie, meet the spartans and now spiderman 3. all missed during their premier dates much earlier. im bless i dont have to pay a single cent for it. thumbs up!

so deployment as promise is a wreck behind my back. the weather is a killer and the dust is a pain. i just can't wait for EMR to put a full-stop at a whole.



----------

ive yet to pen this down. regardless of how often you read word for word. im still gonna make it worth while. coming across you so soon wasn't my idea or intension. i manage to feel slightly comforable with you around. your humility, awareness and your warmness. im beginning to take it to heart. gradually accepting your child-like behaviour. for sometimes you actually do remind me of me back in my days as an angsty loud and narcissistic teenage kiddo. even for the obvious that im in doubt if you're the one for me. but you're the cutest ive to admit. regardless of its minimallity, we made time a treasure. i hope to spending more time with you before im ready to say ill be by your side. just keep that loud and ruthless comment going. it humors me alot.