info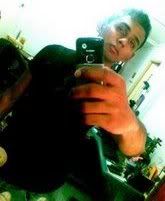 a twenty year-old soldier, deeping an escape fantasy into the wilderness of lifestyle, fashion, music, politics and the suffocation of everyday living. allow me to take my emotions and paint the world white.



facebook - friendster - myspace




LINKS
aaron.
erns.
jun.
rach.
zen.
zi chee
broth.
going om.


Andrea Crews
BryanBoy
Borderline
C.O.A.C.D
F.A.D
La Femme
Luis Avia Roma
Pink! is the New Blog
The Face Hunter
The Sartorialist
Ultra8201
Wardrobe Remix
WISHLIST
MACbook
new wallet
new phone
oni tigs



TRACK

Rihanna - Disturbia



TRAVEL
Bali
Cambodia
Koh Phi Phi


EATARY
BROTH just sliding off those sleezy bar by the junction. located above Duxton Hill, comes a very relax and romantic get away-like semi-fine dining heaven. Where modern Australian is a choice and service is at it's excellence.

Lunch : Mondays to Fridays Dinner: Mondays to Saturdays
29 March 2008 @ 2:29 pm
End of the Rainbow
Tonight mark it's "End of the Rainbow" party at Mox to bid farewell to one of Queer-life's extravaganza. Located just above my regular party arena PLAY, Mox brings about a promising crowd of fine men and some woman (or sometimes in dual-edition) mingle and be-merry over drinks. shashaying into the slightly retro-thememed bar dimly lit and not worrying about a cover-charge. apart from not being a frequent face back at mox, i did enjoy my time back there when i made few pops earlier this year. we're gonna miss a fine non-cruisy place to chill. but bless be that tantric don't shut it's doors aswell. i'll have to sip by the fear of back-stage then.

which i'd have to painfully accept.

being in-decisive is always a fraction of my life. so this part of my life have to decide on the movie we're gonna cozy up upon. & a good place to gobble up dinner at aswell. in short- plan the evening for myself and aaron. but one thing is for sure, i wanna bd my last goodbye to the place i enjoy the most - mox. even how stubbon i was on gluing my butt onto my wooden chair for the weekend.

i need some major bitchifid ass-whopping girlfriend.

i have classily 5-6 more months more until i'm free from being release against my will. two years take pretty number of petty, sore-ridden & painful days behind the luxury of an all expenses paid for stay at what usually branded - maju hotel; my second home. and promising enough, i have to raise the figure of my bank statement by then (but of course not to a whopper size).

historians through the days. but characters are a booming solution to getting away with each passing day. they're like a typhoon swivelling around, bombarding the bad aura away. which draws a smile on a dull face. some might pose being aloud as a display than their deceiving outter features. but some vulgar display of power actually unfolds a better understanding of a persona. but despite being able to relate some, i did relocated some from being companions with to just being a bitch now. but thats what life is all about. and we can't disagree any further.

but after i'm gonna put my uniform away and this segmant of my life is left behind. i will miss the rumbling sounds of laughter, lame jokes and gossips back in camp. but i promise memories of the military are life-long ones. and that is what i call a life-long memory.