info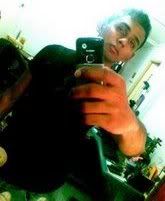 a twenty year-old soldier, deeping an escape fantasy into the wilderness of lifestyle, fashion, music, politics and the suffocation of everyday living. allow me to take my emotions and paint the world white.



facebook - friendster - myspace




LINKS
aaron.
erns.
jun.
rach.
zen.
zi chee
broth.
going om.


Andrea Crews
BryanBoy
Borderline
C.O.A.C.D
F.A.D
La Femme
Luis Avia Roma
Pink! is the New Blog
The Face Hunter
The Sartorialist
Ultra8201
Wardrobe Remix
WISHLIST
MACbook
new wallet
new phone
oni tigs



TRACK

Rihanna - Disturbia



TRAVEL
Bali
Cambodia
Koh Phi Phi


EATARY
BROTH just sliding off those sleezy bar by the junction. located above Duxton Hill, comes a very relax and romantic get away-like semi-fine dining heaven. Where modern Australian is a choice and service is at it's excellence.

Lunch : Mondays to Fridays Dinner: Mondays to Saturdays
16 March 2008 @ 3:34 pm
shake those booties
what would a typical party boy do on a satuday night? you wouldnt need much of creativity to get that settled. we had no choice but to skip the free entry & head down to tantric. me and jun shared a jug. & he took a shit in tantric (i wasnt suppose to say this), until babyboy came along. we hung around a little before heading down play. misfortunately raihan couldn't join us. but i had a moderate good time. despite being pissed whom i had to share the dance floor with & aaron missing in-abit..

despite being a complete whimp in ignorance last night. i hold back in grief that i had to. i wouldn't usually do that to someone i have no harm against. but i don't get why my instinct seperates the thought of my heart. and what pains my heart is to see the company you grow to build and share your precious self with. drop from my arch lifestyle, but concentrate on what you were and what now that you have grown to be. i heard it all on your 'sexually-stimulating' accounter with your new founds. but i believe you're wiser than you are now. times of crisis don't meant times of self-flattery. i woundn't need to extend anything to make this better, you're smarter than your usual & you know that.

i think im in solitary silence with my mom. despite her disgust over my party habit, she's questioning my responsibility over the pets. but in entire whole. i only have one thing to share. don't be arouse by the cute & cuddly sides because you know you have a higher price to pay with your money, time & responsibility. the funny thing is; i didn't even bring pets back home. despite being a vivid animal-lover. i wish this all to over. obviously takes one part of my burden dragging away.

& facebook is a new clarity. you guys should add me - Raga Venthran.