info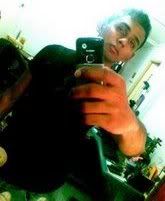 a twenty year-old soldier, deeping an escape fantasy into the wilderness of lifestyle, fashion, music, politics and the suffocation of everyday living. allow me to take my emotions and paint the world white.



facebook - friendster - myspace




LINKS
aaron.
erns.
jun.
rach.
zen.
zi chee
broth.
going om.


Andrea Crews
BryanBoy
Borderline
C.O.A.C.D
F.A.D
La Femme
Luis Avia Roma
Pink! is the New Blog
The Face Hunter
The Sartorialist
Ultra8201
Wardrobe Remix
WISHLIST
MACbook
new wallet
new phone
oni tigs



TRACK

Rihanna - Disturbia



TRAVEL
Bali
Cambodia
Koh Phi Phi


EATARY
BROTH just sliding off those sleezy bar by the junction. located above Duxton Hill, comes a very relax and romantic get away-like semi-fine dining heaven. Where modern Australian is a choice and service is at it's excellence.

Lunch : Mondays to Fridays Dinner: Mondays to Saturdays
10 April 2008 @ 11:38 pm
i don't wanna stop
sulking by the tower walls. caressing my twiddle bite marks by those pesky mozzies the previous night. the newly implemented radio by the background - blasting it's big mouth to ease the tension in our bordem. i spring into attention and this time, in response -

"what in all world is that on the radio?"

i'm not usually a big fan of the air waves, but this is frightening and unacceptable to knowledge such an artist like Ashlee Simpson can make it to a radio. Worst still, the whole recording process, cover editorial and production cycle. with the horrors over bad picthing and songs that don't even make complete sense. no wounder the slogan reads "rock is dead" in the hearts and minds of true-hearted wilderness. And thats another excuse to why i'm not a fan of the radio.

But what the radio gave me smethign to smile about was Jordin Sparks. her collabration with Chirs Brown is just magnificto. Dig "No Air" for better understanding.

so it's another typical day off. but a spanking bonus of luxury and party time. quater-pounder size suprise suprise for raihan tomorrow. i'm excited to know that i'm the host to it. his gonna scream so loud, his mother is gonna slap him with her tudung.

But by unfortunate understanding, baby is gonna miss having a slice of creamy gautue. since his going wave-kunking at tioman for the weekend. how am i gonna withstand two weeks of not even looking into his eyes. i wish i wouldn't have to stop breathing the same air as him.