info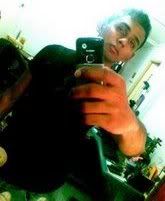 a twenty year-old soldier, deeping an escape fantasy into the wilderness of lifestyle, fashion, music, politics and the suffocation of everyday living. allow me to take my emotions and paint the world white.



facebook - friendster - myspace




LINKS
aaron.
erns.
jun.
rach.
zen.
zi chee
broth.
going om.


Andrea Crews
BryanBoy
Borderline
C.O.A.C.D
F.A.D
La Femme
Luis Avia Roma
Pink! is the New Blog
The Face Hunter
The Sartorialist
Ultra8201
Wardrobe Remix
WISHLIST
MACbook
new wallet
new phone
oni tigs



TRACK

Rihanna - Disturbia



TRAVEL
Bali
Cambodia
Koh Phi Phi


EATARY
BROTH just sliding off those sleezy bar by the junction. located above Duxton Hill, comes a very relax and romantic get away-like semi-fine dining heaven. Where modern Australian is a choice and service is at it's excellence.

Lunch : Mondays to Fridays Dinner: Mondays to Saturdays
29 April 2008 @ 2:15 pm
mark the end of JGL
yesterday mark the end of singapore's cheap security effort at jurong island which involves me. being the only available source of un-paid form of security service comes from the men in uniforms - how convenient. especially with our under-paying allowances does not take much appreciation from our superiors, and topping the bill with critics. tell me how worth while an experience that is to appaul us as a young singaporean like me and many others whom i represent. sometimes i think, what i need is out of this place.

shortly after slapping a cable TV channel with a S$10,000 (US7,360) fine for airing a commercial that showed two women kissing, the Media Development Authority (MDA) yesterday fined a free-to-air station S$15,000 for airing a programme that showed a gay couple and their adopted baby; on the same day, a segment of the Ellen DeGeneres Show where the host condemned homophobia and the recent murder of a 15-year-old gay student.

announcing this on it's website, the programme normalises and promotes a gay lifestyle." which is an issue hence, this is in breach of the Free-to-Air TV Programme Code which disallows programmes that promotes, justify or glamourise gay lifestyles.

so with the media being a barrier to the freedom of lifestyle, the government being the sole answer to the damnation towards the health of our personal and individual normalities of our nature. and a penal code momentarily choking the neck of any gay individual in the society. making you wanna cry out for libery? save it. we have been through that with repealling and surveys and multiple action taken to the parliament. just by being vein as a stratagised topic protecting family value and a conservative society.

rubbish.

but it is ok for the tv to air semi-sexual content from various content of drama or reality programme. it is justifiable to flaunt the acts of violence through action movies and the likes of murder through documentary and crime-scene dramas. because it's ok to show the likes and content of such to a family valuing conservative society. because some likes of singaporean do not accept the content of society but they do enjoy sex, violence and drugs on tv. and remember - we all have to be aware of that!



oh-what the fuck!
you all get an air of the segment on my blog whenever you want!

there was one reason why me and mary got closer by the days then - 'jas'. that backstabbing runaway bitch and weirdo family was part of history then, when i suffered knowing how the story twist and turn to the favour of her mercy and her family support. and her retarded incest (i mean this!) brother trying to crown king with his yah-yah-papaya attitude. and all the help i got from mary would always be appreciated.

and since mary & i loose our touch over the years due to differences and time constrain whatever the reason was. we hooked up again thanks to the same reason - 'jas'. apprently, that oversized poser turned up at mary's part-timing shift. to my suprise i learn from mary that she is still in singapore. i was suggesting a big 'L' on her forehead. for nothing more than she deserve. that frat-LOSER.