info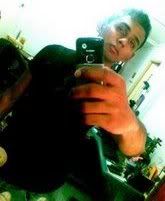 a twenty year-old soldier, deeping an escape fantasy into the wilderness of lifestyle, fashion, music, politics and the suffocation of everyday living. allow me to take my emotions and paint the world white.



facebook - friendster - myspace




LINKS
aaron.
erns.
jun.
rach.
zen.
zi chee
broth.
going om.


Andrea Crews
BryanBoy
Borderline
C.O.A.C.D
F.A.D
La Femme
Luis Avia Roma
Pink! is the New Blog
The Face Hunter
The Sartorialist
Ultra8201
Wardrobe Remix
WISHLIST
MACbook
new wallet
new phone
oni tigs



TRACK

Rihanna - Disturbia



TRAVEL
Bali
Cambodia
Koh Phi Phi


EATARY
BROTH just sliding off those sleezy bar by the junction. located above Duxton Hill, comes a very relax and romantic get away-like semi-fine dining heaven. Where modern Australian is a choice and service is at it's excellence.

Lunch : Mondays to Fridays Dinner: Mondays to Saturdays
23 April 2008 @ 1:02 am
the shame that drains your dignity
Meritocracy: "A system in which advancement is based on individual ability or achievement" - promotion in another words. you may have learn a new word. but i have learn a new meaning to it. in military, individual assessments base on contributions, stability and hard work are suppose to be recognise according to the system meritocracy, and promotions are liable to those who have contributed positively to their service. in my judgement of words, assessment done base on the entire duration of service are the out-most key factor in the process of promotion system.

but last week, meritocracy made a different liability to the claim. and militarily styled, the effort and contribution to those who put their heart and soul into their effort to bring upon a positive training system were not recognise. recognition base on physical standards were access to that - two unworthy hearts were crown corporal. i mean, 30 dollars ain't a big deal to some people. considering the end of service in about 4 months. but to those who have injected the amount of work they can't possibly imagine -

thats

just not fair to them. so much for bring

meritocrats

and so much for having a

system

to it.

I say bullshit to a system of recognition or promotion to those who have contributed positively, especially in military fashion.

the missing presence of my baby is beginning to take it's toll on me. pretty much since i know this weekend i won't be ending up fondling within the warm forearms and being generously kissed on the cheeks. or even snuggling up the baby

blanky

over 'friends' or friend rice and bubble tea. even though part of these

mundane

life cycle is gonna fade like the early morning fog, i still have 1 month to save me from my heartache.



i've

been brushing up on the list of details

steve

gave to me. it's difficult parting the slumber-habitat that

i've

been upholding for a year and a half-and now jumping to an eloquent waiter in front of you smiling silly to your crude remarks or friendly gesture. yes - one side says impress your boss. & another spells 'try to pick what you left out along the way'.

my day will

probably

end with a convention and grandmother's place.

im

just so bored and out-of-mood over not having baby by my side. but

i've

defiantly

fix his birthday present.