info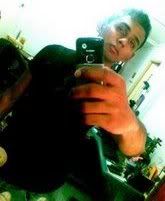 a twenty year-old soldier, deeping an escape fantasy into the wilderness of lifestyle, fashion, music, politics and the suffocation of everyday living. allow me to take my emotions and paint the world white.



facebook - friendster - myspace




LINKS
aaron.
erns.
jun.
rach.
zen.
zi chee
broth.
going om.


Andrea Crews
BryanBoy
Borderline
C.O.A.C.D
F.A.D
La Femme
Luis Avia Roma
Pink! is the New Blog
The Face Hunter
The Sartorialist
Ultra8201
Wardrobe Remix
WISHLIST
MACbook
new wallet
new phone
oni tigs



TRACK

Rihanna - Disturbia



TRAVEL
Bali
Cambodia
Koh Phi Phi


EATARY
BROTH just sliding off those sleezy bar by the junction. located above Duxton Hill, comes a very relax and romantic get away-like semi-fine dining heaven. Where modern Australian is a choice and service is at it's excellence.

Lunch : Mondays to Fridays Dinner: Mondays to Saturdays
18 April 2008 @ 10:58 am
you are my wonderwall.
i's quote that my aquarium on facebook is overcrowding. but i myself can't imagine how the sushi and sashimi are swimming in my little tummy. yesterday's plan on sushi tei toppled over thanks to the over-population of gluttons. so we ended up at a small yet bare able mr sushi, recommended by zen. situated at the heart of B2 of ngee ann city. the bar styled sitting area would have challenged us into the minimalism in it's menu or me over re-acting to catastrophic. but i would take that back. the food was slightly crunchier and juicer compared to any japanese i've swallowed, despite being their last order. and the price tags don't come with a big hole in your pocket. even though i had a slight bitch fit over them running out of sashimi. but i manage to steal afew from cold storage. in total, my bill calculated 40 for three heads and i wouldnt have to complain a single bit.

we left for 'going om' then after. even to living up to my label as 'fashionably late', the cafe ran a great heart with lights, excitement and some fizzy drinks. and last night, momma (i meant oli)was in-charge. so he was funny and so was plush. plush is his out-of-the-galaxy looking grey hound breed little girl which was running all over the place. even though she was hoping more than using all for legs to good. some day i need to bring my little girl to meet plush and they should just socialize in their k9 effort.

arron couldn't last the entire time. i guess 63 was taking a toll on him. with the comfortable sofas and hypnotising music that soothingly tickles your sense of hearing. we left at about 10:30 and there wasn't much to do either. he was about to drop any moment and me... well... i still wanted to play. but now, thanks to the midnight charge i'm in the comfort of my own home. murdering time for mid noon so that i can make my way down to PGP again.

effort to impress steve is about to take it's toll. with his given menu. oh! and have i forgotten to inform you that im part of broth in anytime early may. im excited, likewise a little afraid speaking of how a dangerous situation i may be in. but all that i want is to earn some extra dollar bills and that all thats part of my agenda.