info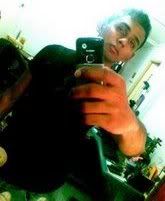 a twenty year-old soldier, deeping an escape fantasy into the wilderness of lifestyle, fashion, music, politics and the suffocation of everyday living. allow me to take my emotions and paint the world white.



facebook - friendster - myspace




LINKS
aaron.
erns.
jun.
rach.
zen.
zi chee
broth.
going om.


Andrea Crews
BryanBoy
Borderline
C.O.A.C.D
F.A.D
La Femme
Luis Avia Roma
Pink! is the New Blog
The Face Hunter
The Sartorialist
Ultra8201
Wardrobe Remix
WISHLIST
MACbook
new wallet
new phone
oni tigs



TRACK

Rihanna - Disturbia



TRAVEL
Bali
Cambodia
Koh Phi Phi


EATARY
BROTH just sliding off those sleezy bar by the junction. located above Duxton Hill, comes a very relax and romantic get away-like semi-fine dining heaven. Where modern Australian is a choice and service is at it's excellence.

Lunch : Mondays to Fridays Dinner: Mondays to Saturdays
15 May 2008 @ 7:51 pm
come on tell me how you've made all this go away
i

wouldnt

really put it in a different look. taking a bitter prospect of hiking and the reminder of running. mix them together in a tropical temperature and you get

alot

of negligence to it's importance. the key factor is

definitely

- healthy lifestyle. but i slacked off the 7.8km route just like shaking dust off my shoulder. and barely scrapping through the time process just by walking. i just don't like the idea of a perspiring body

in a

public transport after it wraps up. and by

definite

, it's one least way

i'd

fancy sharing body fluid by.

but i

definitely

enjoyed the crushing metal sounds of iron man. irregardless of the straight snip to the end; it still has what

i'll

score - awesome graphics paired on

mesmerising

ideology.

magnific

.

in comprehensive and rich history i manage to indulge with

raihan

. we just had to meet the noon to flaunt our perky random jokes,

btu

it's also to hang-out with

aaron

one last time. before tomorrow is too late (which it actually is). scouted for overly price bags at

bugis

which was an irony actually. how my prospect of the price tags became different. so we scouted for a better drive to get a faster running

ibook

for

aaron

.

but tomorrow, is the day he'll turn his back and slip away.

i don't understand why

i'll

say

i'm

gonna miss someone i never thought i would in it's first

presence

. i don't understand the reason to the running tears that rolls down the cheek. and i don't understand the empty stares that i drop my jaw in awe for minutes. does it gonna make me better than anything i've become? or has it taken what i left as a legacy? or has the litted candle take me over and melted the hole in my heart. do i actually think i am really gonna miss him? or has the line blurred the day we met by the window as nymphs? are they just questions of a convinced goodbye? because i cannot go through this again.