info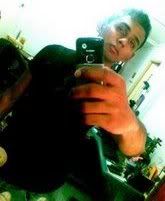 a twenty year-old soldier, deeping an escape fantasy into the wilderness of lifestyle, fashion, music, politics and the suffocation of everyday living. allow me to take my emotions and paint the world white.



facebook - friendster - myspace




LINKS
aaron.
erns.
jun.
rach.
zen.
zi chee
broth.
going om.


Andrea Crews
BryanBoy
Borderline
C.O.A.C.D
F.A.D
La Femme
Luis Avia Roma
Pink! is the New Blog
The Face Hunter
The Sartorialist
Ultra8201
Wardrobe Remix
WISHLIST
MACbook
new wallet
new phone
oni tigs



TRACK

Rihanna - Disturbia



TRAVEL
Bali
Cambodia
Koh Phi Phi


EATARY
BROTH just sliding off those sleezy bar by the junction. located above Duxton Hill, comes a very relax and romantic get away-like semi-fine dining heaven. Where modern Australian is a choice and service is at it's excellence.

Lunch : Mondays to Fridays Dinner: Mondays to Saturdays
21 May 2008 @ 2:00 am
day one in sembawang wharf
back to the namely efficient deployment duties by the docks over the 3 week duration brings a little light confidentially. separated into two different ray of light

- the scorching sunshine that rays her wrath upon us duty-mongers.

- and the passing eye candies that model themselves in uniform.

subsequently reminded by the memories from porn flicks i've bookmarked over my slightly stimulative fetishes - men in uniform. just 7 hours into the first wave of duties, and i can already count the orgasmic sailor boys i would have one chance with. mocking over the deployed position i will take outside their lavatory with jun just gives me slight giggles over my passing doom days.

we (that includes jun) have caught the bug of a travel spree. by the excitement that our passing out of the world comment is actually becoming alive. discussion brought about afew details i took acknowledgment of. but Bangkok is definitely the heart to varies wats (temples), palaces, night market and shopping destination which every travel junkies will definitely invest few bhats on. with flying testimonials from Aaron and magazine columns that provides a better understanding to my yet to come getaway destination. not to forget the credit i burden upon wikitravel. i'm putting together couple of landmarks and wats i'd most possibly be bless to be in it's presence by late september. and following a travel destination for affordable shopping and local cuisine. it s a definite to round up their ever famous night market which are in par with those back in Taiwan. relieving back to those hip-frenzy lorongs just brings back memories of days i spent in Shiling and Ximen.

atleast getting me occupied just keeps every passing day just a millimeter less painful to bare the thought of you. with alot more to occupy as each passing day without you is a memory of your once humble -soft touch.