info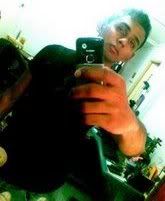 a twenty year-old soldier, deeping an escape fantasy into the wilderness of lifestyle, fashion, music, politics and the suffocation of everyday living. allow me to take my emotions and paint the world white.



facebook - friendster - myspace




LINKS
aaron.
erns.
jun.
rach.
zen.
zi chee
broth.
going om.


Andrea Crews
BryanBoy
Borderline
C.O.A.C.D
F.A.D
La Femme
Luis Avia Roma
Pink! is the New Blog
The Face Hunter
The Sartorialist
Ultra8201
Wardrobe Remix
WISHLIST
MACbook
new wallet
new phone
oni tigs



TRACK

Rihanna - Disturbia



TRAVEL
Bali
Cambodia
Koh Phi Phi


EATARY
BROTH just sliding off those sleezy bar by the junction. located above Duxton Hill, comes a very relax and romantic get away-like semi-fine dining heaven. Where modern Australian is a choice and service is at it's excellence.

Lunch : Mondays to Fridays Dinner: Mondays to Saturdays
28 May 2008 @ 2:06 pm
end of a legacy
end of a legacy



when my family gathers to hold court, it usually takes a lot of boldness and character to put them all together in one room. and then observe through the looking glass. as shrines of smile slugs to black faces and gossip and bitchiness just by rubbing shoulders with each other. nothing has ever come merry. and even if my family did, it never lasted one full year without a hole to tear it apart. i usually refer to immediate family when the tree of life starts from my maternal grandfather. but this time, family streams the entire branch of my maternal side. But if you scratch your head and question - what about his fathers'? i say - dead.

and speaking of which - dead. now this is one reason why the end of a legacy compliments the rant about my family. my great-grandfather passed on this morning at 5. leaving behind a family astray, which most potently he doesn't actually give a damn. reluctantly accepting the counts of gray on his head may be the cause. but! im going down to slide it off and chuck it down the corner. brush it down my shoulder because a reunion and my family are like the opposite ends of the globe. they are

within a circle - yet distance apart.

spare me the condolences because not a single tear shed. and im not vain to say im in remorse. all i was there for presence and smile just hides under my hood of out linger mood and cranky syndrome. probably lasting just for the day. but i don't usually appreciate high drama and family put together. and for the sole reason that the togetherness came with the death, how perfect. i wounder to myself - is this usually the fate where togetherness comes only with a cause of a damn. and trialling down the time line, it actually is.

you know, i envy in jealousy to the fondle of reunion through smile, laughter and wholesomeness. which quality like this took a miss in my family. but for another reason. death is to embrace us upon the first leg. it didn't take us all by surprise. and neither did we took it for granted. i'll have to say how awkward an inner gut glutton me about upon the motionless corpse lay on the floor traditionally dress and hornered. but no matter how the distance may tore us both emotionally. nothing compares to the legacy he have built to finally end in peace. and in grace he lays for peace, after 80years.