info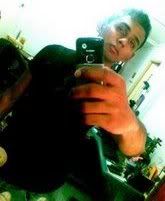 a twenty year-old soldier, deeping an escape fantasy into the wilderness of lifestyle, fashion, music, politics and the suffocation of everyday living. allow me to take my emotions and paint the world white.



facebook - friendster - myspace




LINKS
aaron.
erns.
jun.
rach.
zen.
zi chee
broth.
going om.


Andrea Crews
BryanBoy
Borderline
C.O.A.C.D
F.A.D
La Femme
Luis Avia Roma
Pink! is the New Blog
The Face Hunter
The Sartorialist
Ultra8201
Wardrobe Remix
WISHLIST
MACbook
new wallet
new phone
oni tigs



TRACK

Rihanna - Disturbia



TRAVEL
Bali
Cambodia
Koh Phi Phi


EATARY
BROTH just sliding off those sleezy bar by the junction. located above Duxton Hill, comes a very relax and romantic get away-like semi-fine dining heaven. Where modern Australian is a choice and service is at it's excellence.

Lunch : Mondays to Fridays Dinner: Mondays to Saturdays
9 May 2008 @ 9:36 pm
i'm watching you drown, i'll follow you down.
have you ever virtually do up a list that comprises 'things of your utmost phobia'. i may have. because i had to face it without expecting or even in a short notice. for your knowledge, one of the top most phobia that evades me comprises of the

field

of medical. be it in an operation or a minor surgery. something that just cuts you up, or the gross anatomy just makes me sick to my stomach.

and

thats

no much difference from a poke of a needle (

im

a pussy when it comes to injections). I.V. it was for me due to constant dehydration. not that i hadn't had enough to drink or that

im

in

negligence

to the

essentiality

that

Myanmar

is facing now.

apparently

i had stomach flu the morning of the week's

monday

. after

battalion

physical, i realise there was something erupting in that little tummy of mine. confident enough that

i'd

have to realise from behind. it switched sides. it went opposite on me, and out of my mouth (that don't mean i shat from me mouth, excuse me). my stomach was swell and the stomach flu crumble every limb, affecting me to weakness. so drips it was for me at

pasir

labar

since that was the only one that runs 24/7.


if phobia comes in a sense to the

thumbs

of your beating heart to the cold sweat and choking fear. then phobia has just been kicked back. and this is one i don't have to see again. finally clearing my SOC after 3 tries,

im

proud to say i can now pull my head up and give a pat on my back. apart from the solitary training, i think the mutual support from my buddies matter(ed) the most. this is one magic i will never forget when my years down the road as a civilian starts to kick in. and

i'll

have to brush more compact powder for

junaidy

for running down the entire pain and sweaty route with me.

and if its a cold and painful road i say. it'll come down to one that breaks my heart to even type how it bites. when wishful-thoughts so often proves in vain and the needle spikes your heart in pain.

thats

how much

i'd

know i have exactly a week left to be with my better half. & from then on and all, it's just memories of those that were left to scare and smile.




Nine Inch Nails - The Slip






scabbing

through the fresh tracks from The Slip (reviews out tomorrow), i hunger in vain. what can i do to get some

japanese

out here? the

sakae

sushi hub nearby decides to fix their glamour up at the point when

im

having my craving again. its

definitely

not something stale from sushi deli at this time. so my oi!

mee

suah

and a cup of milk tea to settle the deal. maybe they were those

taiwanese

days back in late last year that kicked in. well,

definitely

nothing beats the grass-jelly curd filled

milk tea

which waters your mouth. consider the drips by the gaps of your mouth. that is one thing

i'll

go back to

taiwan

for.

ditching the free movie web, and being a big epic sci-

fi

fan; the answer is: 100 million BC. it may be a

gimmic

to 10,000 BC, but anything for a good blast in your years and to dinosaur roars and

pre

-historic kick-ass graphic. but nothing beats the remake of king

kong

.