info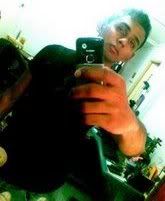 a twenty year-old soldier, deeping an escape fantasy into the wilderness of lifestyle, fashion, music, politics and the suffocation of everyday living. allow me to take my emotions and paint the world white.



facebook - friendster - myspace




LINKS
aaron.
erns.
jun.
rach.
zen.
zi chee
broth.
going om.


Andrea Crews
BryanBoy
Borderline
C.O.A.C.D
F.A.D
La Femme
Luis Avia Roma
Pink! is the New Blog
The Face Hunter
The Sartorialist
Ultra8201
Wardrobe Remix
WISHLIST
MACbook
new wallet
new phone
oni tigs



TRACK

Rihanna - Disturbia



TRAVEL
Bali
Cambodia
Koh Phi Phi


EATARY
BROTH just sliding off those sleezy bar by the junction. located above Duxton Hill, comes a very relax and romantic get away-like semi-fine dining heaven. Where modern Australian is a choice and service is at it's excellence.

Lunch : Mondays to Fridays Dinner: Mondays to Saturdays
1 May 2008 @ 3:01 pm
more from harold & kumar.
for the record, the night out with the boys to ST James didn't actually fantasize me. jun and i made last minute decisions to catch Harold & Kumar escape from Guantanamo Bay. the much-anticipated sequel to Harold & Kumar go to White Castle which i manage to sneak in few years ago when i was under aged. same old-same old humor and same old-same old raunchy & random scenes to a whole pack of laughter. it's worth throwing your $10 for a movie like Harold & Kumar, just as long as you're above 18.

jumping up and down, banging my head to the rhythm of the drum beat. and screaming the voices to the lyrics are beginning to take it's itch soon enough. was going through couple of live videos by Slipknot i went to few years ago when they landed on our shores. putting my fingers cross to a better line-up for SingFest 2008. or maybe LAMCproductions takes more vibe to their next featured act. LAMCproductions is of course Singapore's leading gig organizer who brought us acts like Dream Theater, Slayer, Megadeth, Blondie & many others.

Nine Inch Nails new single, Discipline. Enjoy!


& this is my new awesome ring tone.


I'm off today, yelling that i'd spend the Labour Day at Broth. which means to say that im officially starting work at Broth tomorrow, or should i say On Job Training. & hence it's a friday night. i'd just drop by tantric for a drink. seeking it's most convenient location that im blessed with.

i just don't know whats with me and F&B. but i just don't see myself doing anything else. i know i can't do art. which mostly sums up to any art course i'd have to take which includes design. i dropped out of, after merely attending the course for 2 months in the ite. i definatly can't feel comfortable doing engineering, electronics or mechanical. i'll go bezerk trying to figure what im gonna put my hand into. thats why F&B is my peak choice to whatever i'm going to do and excel in. and i believe thats how far im gonna go with it.

YAY! to labour day & my long weekend. despite the full shift tomorrow and the dinner shift for saturday. im still blessed with sunday to rest. before beginning a regular week in camp. & we all have to begin to adapt to that. and of course starting SOC training all over again right from ground zero. & i'll update on my suffering as that comes. for now, it's me and my off-days.