info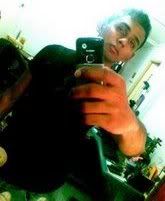 a twenty year-old soldier, deeping an escape fantasy into the wilderness of lifestyle, fashion, music, politics and the suffocation of everyday living. allow me to take my emotions and paint the world white.



facebook - friendster - myspace




LINKS
aaron.
erns.
jun.
rach.
zen.
zi chee
broth.
going om.


Andrea Crews
BryanBoy
Borderline
C.O.A.C.D
F.A.D
La Femme
Luis Avia Roma
Pink! is the New Blog
The Face Hunter
The Sartorialist
Ultra8201
Wardrobe Remix
WISHLIST
MACbook
new wallet
new phone
oni tigs



TRACK

Rihanna - Disturbia



TRAVEL
Bali
Cambodia
Koh Phi Phi


EATARY
BROTH just sliding off those sleezy bar by the junction. located above Duxton Hill, comes a very relax and romantic get away-like semi-fine dining heaven. Where modern Australian is a choice and service is at it's excellence.

Lunch : Mondays to Fridays Dinner: Mondays to Saturdays
4 May 2008 @ 6:28 pm
sashimi & his partner
as it might vividly be flaunt on my online diary that i have quite a apatite for food and my possible cravings during mid-weeks. in which life is slightly a little more challenging from where i'll be actually housing. the crave starts to stimulate your taste-buds and it just plainly makes your taste-buds slightly a little moist than usual.

i do my part in feeding myself according to my craving. i hate to put my crave to the challenge. and that is why i can no longer withstand my cravings and got myself 5slabs of salmon sashimi. despite being overpriced & lodging a queue to pay it, i was unable to resist them. with watery tongues and itchy fingers, i could not wait upon reaching home to gobble them up.

my main reason to be at forum was to get my printed tops from aisha. those were meant to be birthday gifts for aaron before he leaves. im quite satisfied with the white one, but the black one is a little less perfect (just to be nice) than i expected it to be. but what the hack. both tops cost me $60 in whole, and they are not going to the bin. regardless of me being slightly a little unhappy about the results and how imperfect im grumbling about.


these are the much better printed white ones.
this is rather un-professionally done. & it wasn't suppose to be this small.

i manage to get the first nine tracks of GHOST I-IV from nine inch nails official download website. instrumental part is rather different from what they have done. judging from the free downloads, its definatly an album worth spending your money on. its definatly a soundtrack for all the electronic and industrial junkies out there. irregardless of the ultimate-deluxe edition of the album, which cost US$300 has been sold out. you can still grab their deluxe edition and their contemporary disc set at quite a reasonable price.

last night at broth was a little hectic. acclimatising to the vivid movement and customer service momentum is a little wicked on my side. well, being not able to out pour for a year an a half made some great adjustment to that part of my life. im a little challenge to being as lightly a little more reactive than usual. but im positive in working forward a better shift and a more professional outlook towards my carrier. every step i take here in broth, is my learning stone. and im not gonna make anything take that out of my way.

crash the night at aaron's then after. apart from the prata (had no other choices to take; due to his slightly particular taste-bud) we had our time with f.r.i.e.n.d.s and knocked off pretty soon. thinking of how time like these went to waste. you cant imagine how these spare times we have are so precious to me than it has ever been way back then. i dont know. but feel like im loosing someone i dont want to loose so soon. but there is nothing that i can do about that.