info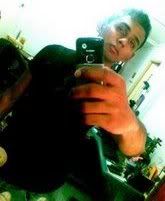 a twenty year-old soldier, deeping an escape fantasy into the wilderness of lifestyle, fashion, music, politics and the suffocation of everyday living. allow me to take my emotions and paint the world white.



facebook - friendster - myspace




LINKS
aaron.
erns.
jun.
rach.
zen.
zi chee
broth.
going om.


Andrea Crews
BryanBoy
Borderline
C.O.A.C.D
F.A.D
La Femme
Luis Avia Roma
Pink! is the New Blog
The Face Hunter
The Sartorialist
Ultra8201
Wardrobe Remix
WISHLIST
MACbook
new wallet
new phone
oni tigs



TRACK

Rihanna - Disturbia



TRAVEL
Bali
Cambodia
Koh Phi Phi


EATARY
BROTH just sliding off those sleezy bar by the junction. located above Duxton Hill, comes a very relax and romantic get away-like semi-fine dining heaven. Where modern Australian is a choice and service is at it's excellence.

Lunch : Mondays to Fridays Dinner: Mondays to Saturdays
20 June 2008 @ 2:14 am
homosexual = sodomite


but i'm confident enough, with that tiny bottle figure of hers. is gonna good use with the pillows and table services hundred of feet above sea level. because all those tears at the departure hall, will make her fortune and her family proud of her. like to speak, i am already bold with white teeth shinning proud and mighty of my 6years good friend. good bye for now my friend.

so as some reckon my lust for desperate housewife. i manage to get a snippet of their season 1 to some knowledge which i'd like to share, putting my exclusive partner to PLU blogs to heights. i just can't end with a dead link.

so for all those who crave desperate housewife, you'd have learn about Bree ad her bubbly slightly morbid character running along her goody-two-shoes redneck curls to a bounce. and together embracing her "quite a challenge family" through motherhood and being a perfecto-obsessed housewife. stumble upon a breaking news about her son's newly swallowed down homosexual lifestyle. and bringing upon a christian family, a reverend was call upon to 'wash away' and 'bless' this little boy that goes like this:

Reverend: "So Andrew, your mother told me you started some sexual desire over other boys".

Andrew: *stairs in dismay*

Reverend: "And over the years, we've had so

many young people come to our ministry hating themselves for their un-natural desire

and in a

few months they'd find inner-peace and tranquallity

that is nothing sure than miraculous". "All it takes is a little faith and desire to change".

Andrew: "I'm sorry but I really don't wanna talk about my sex life".

Bree: "Well, thats too bad because this needs to be discuss".

Reverend: "Bree, let the boy speak". *looking at Andrew* "Go on".

Andrew: "Well, I appreciate the offer to help, but i don't hate myself". "So, I'm good".

Reverend: "Son, I know what is it like to be a teenager, it's a very confusing time".

Andrew: "I'm not confuse, I know exactly who I am".

...and the Reverend offers help through confession without force. with Bree interrupting that his giving up on Andrew. which in replied "well, you can't force him on the path of

righteousness

, he himself should want to make the journey". which Bree speedily asking what she'd do if her sons starts dating boys and correcting the word 'gay' into 'sodomy'. and the whole thing goes as Bree looking to it as a problem and her son is perverted.

my point here is to just leave you with your own ordeal and the comfort of your own words to argue or provoke a convo like that. BECAUSE. this episode aired on channel 5 without it's usual MDA hack off. the irony.