info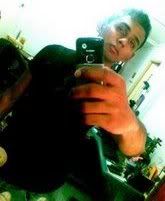 a twenty year-old soldier, deeping an escape fantasy into the wilderness of lifestyle, fashion, music, politics and the suffocation of everyday living. allow me to take my emotions and paint the world white.



facebook - friendster - myspace




LINKS
aaron.
erns.
jun.
rach.
zen.
zi chee
broth.
going om.


Andrea Crews
BryanBoy
Borderline
C.O.A.C.D
F.A.D
La Femme
Luis Avia Roma
Pink! is the New Blog
The Face Hunter
The Sartorialist
Ultra8201
Wardrobe Remix
WISHLIST
MACbook
new wallet
new phone
oni tigs



TRACK

Rihanna - Disturbia



TRAVEL
Bali
Cambodia
Koh Phi Phi


EATARY
BROTH just sliding off those sleezy bar by the junction. located above Duxton Hill, comes a very relax and romantic get away-like semi-fine dining heaven. Where modern Australian is a choice and service is at it's excellence.

Lunch : Mondays to Fridays Dinner: Mondays to Saturdays
17 June 2008 @ 6:27 pm
what on above, then aswell below
some random shots of my little aslan.

so his just gaining a few scratch at the right spot and you can see him flipping and doing some stunts like that. isn't he the most adorable 14 years old?



so the weekend partying in celebration of dave's ORD went down a long shallow road. despite the unfortunate stage plunge the kid had to take thanks to his middle finger. which i manage to dust it off his shoulder that im not your ordinary skirt wearing gayboys on the dance floor. & that i will bite back. we also enjoyed the clinging shot glasses to merry with tequilas and lots of booze. and for the night, we puked and went home walking zig zag.

working out on the long off merely covers more spending. manage to run down with a DVD player and some house session from ikea. building a small home takes some time and money like any ways it will come to. & thats not all i've left from ikea. i came back with a list aswell. i also manage to cord around Prince Caspian and later this evening, Get Smart. And since we're making it much early, there goes the road down to more money spent.

but for the better, i took Steve's offer to the advantage. and i'll be a farmiliar face to Broth than it'll ever be. And just for the record, i'm working towards my first laptop by the second month. it's some big money. but it's just a small price to pay for my entertainment and something to file my personal. not forgetting on leaving sharing down the rainbow. now i don't have to hear my mom or my sis the interest to share. but how do i get the wireless function fixed? thats gonna be a challenge.

and my budget days are left standing between desperate housewives, family guy and my computer. the sins of my beloveth over drama and cartoon just takes me a step closer to hell.