info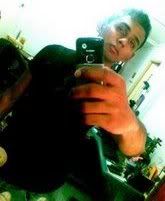 a twenty year-old soldier, deeping an escape fantasy into the wilderness of lifestyle, fashion, music, politics and the suffocation of everyday living. allow me to take my emotions and paint the world white.



facebook - friendster - myspace




LINKS
aaron.
erns.
jun.
rach.
zen.
zi chee
broth.
going om.


Andrea Crews
BryanBoy
Borderline
C.O.A.C.D
F.A.D
La Femme
Luis Avia Roma
Pink! is the New Blog
The Face Hunter
The Sartorialist
Ultra8201
Wardrobe Remix
WISHLIST
MACbook
new wallet
new phone
oni tigs



TRACK

Rihanna - Disturbia



TRAVEL
Bali
Cambodia
Koh Phi Phi


EATARY
BROTH just sliding off those sleezy bar by the junction. located above Duxton Hill, comes a very relax and romantic get away-like semi-fine dining heaven. Where modern Australian is a choice and service is at it's excellence.

Lunch : Mondays to Fridays Dinner: Mondays to Saturdays
11 June 2008 @ 11:04 pm
a world a criminal apart
reading have been a distance for quite awhile. scapegoating military service is my quick reaction. but i'll blame on lazy eyes and lack of interest. but so to speak, and i'm picking things up before i'm done clapping two hands off the army. headlines are a good start. or random or slightly eye-popping articles from magazine or readers' digest caught me up for the past couple of days and i'd like to share one that caught my attention that momentarily sprung into a frenzy of emotion and a dictation to a stronger being.

reader's digest humanitarian article of a once broken peasant woman in a rural village in Pakistan portrays a lavish life that we enjoy in vain - a pity. such a basic structure of a woman whose life borders on her haunting past and her captivity to nourish a different to the stereotyped living condition that battles most poor or in this case - woman. i manage to pick up many inspiring vision she took that changed hundreds of life and nurse the broken to a better and stronger being to stand on their own two feet. and all these came from a timid soul whose rape record and nearful honour killing plunge her down. and now, her believe in an educated woman population made possible with her girls school. and her nursing programme to help broken woman paid with an institution.

celebratizing or not. she needed something in the name of honour. with a grateful difference she make. you only need a handful of these people to put a full stop to the killing and mistreatment that comes together with the grouping of caste.

and another article i would like sharing with you might probably be of shock value to some. but it's just something that i notice and take great interest in. you know how historically acclaim places of worship are to most travelers and backpackers. you know how photography junkies just stand to the proper shades just to snap couple of worthy shots. and how mesmerize people stand to the amazing structure of each pagoda or pillar or the statue of a non-human looking being. which usually is the case for peace and sensuality.

despite being an atheist i regard many places of worship or temples one of the most interesting places enriched with culture. despite the booming architectural details carved onto each patent brick dressed in colours just makes you stand in awe. the beauty of each building date back to hundreds and thousands of years back brings you to wonder the specialty and hardship that couples dedication to erect a structure this magnific. so by definite, if there is one place you'd take a trip to. take a moment or two with their holy alters.