info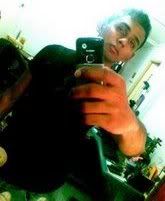 a twenty year-old soldier, deeping an escape fantasy into the wilderness of lifestyle, fashion, music, politics and the suffocation of everyday living. allow me to take my emotions and paint the world white.



facebook - friendster - myspace




LINKS
aaron.
erns.
jun.
rach.
zen.
zi chee
broth.
going om.


Andrea Crews
BryanBoy
Borderline
C.O.A.C.D
F.A.D
La Femme
Luis Avia Roma
Pink! is the New Blog
The Face Hunter
The Sartorialist
Ultra8201
Wardrobe Remix
WISHLIST
MACbook
new wallet
new phone
oni tigs



TRACK

Rihanna - Disturbia



TRAVEL
Bali
Cambodia
Koh Phi Phi


EATARY
BROTH just sliding off those sleezy bar by the junction. located above Duxton Hill, comes a very relax and romantic get away-like semi-fine dining heaven. Where modern Australian is a choice and service is at it's excellence.

Lunch : Mondays to Fridays Dinner: Mondays to Saturdays
25 July 2008 @ 2:52 pm
in the name of gay
An openly gay Turkish poster boy, Ahmet Yildiz was shot as he was leaving a cafe near the Bosphorus strait. He tried to flee in his car, but lost control and was pronounced dead at a hospital. A physics student who represented his country at an international gay gathering in San Francisco last year is believe to be the country's first gay 'Honor-Killing'. Fell into a pit of "a war between old mentalities and growing civil liberties" as quoted by his close friends.



Turkey's rise to the support of the minority especially with the woman and homosexuals are beginning to pen transparency in society but are a rather painful conviction to the traditionalist the circles and pry to suppress an old regime.

Other possible quotes related to unfriendly relationship with his family and neighbours who suggested him to consult a doctor for a 'cure' to this. "From the day I met him, I never heard Ahmet have a friendly conversation with his parents," one close friend and near neighbour recounted. "They would argue constantly, mostly about where he was, who he was with, what he was doing."

Hostility towards homosexuality has always been a tension in the muslim society. And for mandatory service examption - which sees homosexuality as an "illness". Men applying for an exemption to obligatory military service on grounds of homosexuality must provide proof – either in the form of an anal examination, or photographs.

Despite being a headline to many international press, 'Honor-Killing' is part of an everyday or grim formality in Turkey. In which, victims are mostly young women, murdered by male relatives for transgressing chauvinistic social rules. I recall watching a clip over such honor-killing months back, with Aaron.

Whether the case tensions between 'honor killing' or 'killing in the name of gay', Ahmet isn't the only one who surface about being murdered in the name of gay. Lawrence King, a 15-years old student was shot by his fellow school mate after King had asked his school mate to be his valentine early February 2008.



Remembering Ahmet and Lawrence.

Labels: homosexual