info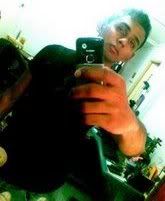 a twenty year-old soldier, deeping an escape fantasy into the wilderness of lifestyle, fashion, music, politics and the suffocation of everyday living. allow me to take my emotions and paint the world white.



facebook - friendster - myspace




LINKS
aaron.
erns.
jun.
rach.
zen.
zi chee
broth.
going om.


Andrea Crews
BryanBoy
Borderline
C.O.A.C.D
F.A.D
La Femme
Luis Avia Roma
Pink! is the New Blog
The Face Hunter
The Sartorialist
Ultra8201
Wardrobe Remix
WISHLIST
MACbook
new wallet
new phone
oni tigs



TRACK

Rihanna - Disturbia



TRAVEL
Bali
Cambodia
Koh Phi Phi


EATARY
BROTH just sliding off those sleezy bar by the junction. located above Duxton Hill, comes a very relax and romantic get away-like semi-fine dining heaven. Where modern Australian is a choice and service is at it's excellence.

Lunch : Mondays to Fridays Dinner: Mondays to Saturdays
26 July 2008 @ 4:27 pm
psycho-socially intimidative


isn't the new Slipknot video more intimidative than they are with their new mask. regardless of being pretty upset that they weren't sticking with their death mask back in the vermillion video. but sure enough, they are kicking more hots than they ever have. i'm counting on their next Asian dates.

im all set for the dinner coming friday. dress to impress or just to stick my head up to my mojo. i know how creative i was going to get with the accessories that i have on my mind. but im just saving it for another flamboyant day i might stumble upon. i'll be crappy enough to get one or two pictures up as soon as im all stuff with buffet and alcohol by the wee-hours. and apart from securing another wild night with booze and company, i'm gonna share the latest of what i've been up to:

1) I'm on to the 4th and final season of Desperate Housewives

2) I have 42 days remaining, to serve the nation as an NSF

3) I am constantly picking up irons before i slob a fat cake when i ORD

and mundane life cycles are more about kitty kat naps and fattening breaks from the unnourished cook house feed or even, couple of hours off the night on tuesdays, wednesdays and thursdays. but nevertheless, being perfect for the parade coming thursday will be a big chore on our legs, arms and complexion. so pick me on a good time, so we can go somewhere. just as long as you remember that im broke.

BUT!

you can tel i've a long string of 'things to buy' on my wishlist that just won another slot again today. i have to be wallet-friendly. maybe, even a new wallet to be friendly with.