info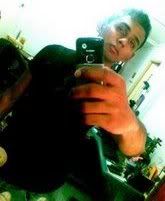 a twenty year-old soldier, deeping an escape fantasy into the wilderness of lifestyle, fashion, music, politics and the suffocation of everyday living. allow me to take my emotions and paint the world white.



facebook - friendster - myspace




LINKS
aaron.
erns.
jun.
rach.
zen.
zi chee
broth.
going om.


Andrea Crews
BryanBoy
Borderline
C.O.A.C.D
F.A.D
La Femme
Luis Avia Roma
Pink! is the New Blog
The Face Hunter
The Sartorialist
Ultra8201
Wardrobe Remix
WISHLIST
MACbook
new wallet
new phone
oni tigs



TRACK

Rihanna - Disturbia



TRAVEL
Bali
Cambodia
Koh Phi Phi


EATARY
BROTH just sliding off those sleezy bar by the junction. located above Duxton Hill, comes a very relax and romantic get away-like semi-fine dining heaven. Where modern Australian is a choice and service is at it's excellence.

Lunch : Mondays to Fridays Dinner: Mondays to Saturdays
12 July 2008 @ 3:55 pm
you expect absolution, i say cheap grace
supernatural is like part of military mandatory pro gramme self adopted by those who kiddishly expect the un-natural surrounding with paranormal shock treatment. momentarily clinging onto the radio set on their ethnic channel once pass midnight, or self-spooking at haunted venues around the island which brand 'adventure'. i won't pass a second wasting my time. but you can imagine a whole bunch of them doing more than what they can just to have experience. it's interesting how

only

they can 'feel', 'smell' or 'hear' such ludacris statement to their paranormal judgment. and this is not just a passing day encounter, it's beginning to become a habit i find an irritation and fill with stupidity.

but if you tell me to embrace something paranormal. maybe hellboy would be a good start. me and the guys headed down for an original graphic laden blockbuster which slammed right on our faces, filled with action and marvel-magic. which usually trills everyone sense. with beaming creatures and decades long heritage and mystical creatures. what more can you ask from a movie junkie like myself. superpower kicks supernaturals ass.


i wanted to share something i discovered taking a poop in my barracks toilet this week. just came to adjust with andrea fornseka directly staring at you taking whatever business you're doing privately. i'm oblivious to whomever who pasted it. i'm also oblivious to whom might want two eyes staring at you when you're taking a big business. not that it's homosexuality content matters so much. but on the contrary, i wonder what will it look like if i have a male porn star on te door. i wonder what the guys will do.